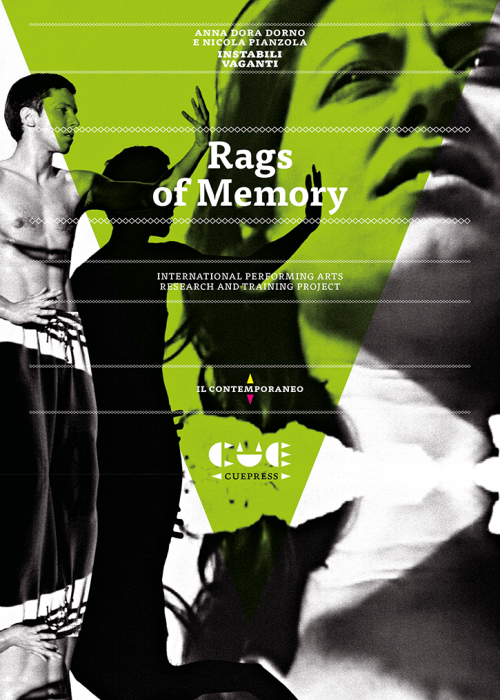 Lingua: English
Effettua l'accesso per poter acquistare
Cartaceo
€ 29.99
Interactive eBook
€ 9.99
Anna Dora Dorno; Nicola Pianzola; Instabili Vaganti
Rags of Memory
International performing arts research and training project
Rags of Memory is an international research and training project in the performing arts directed by Instabili Vaganti, which explores new ways of artistic expression and theatrical communication through the interaction with disciplines such as cultural anthropology, visual arts, new media, dance, music and any other artistic form and expression that mankind has known.
With this book, the authors seek to mend the rags of memory that made up the canvas of this complex project by weaving the pages of their work diaries with the stories written by the countries they crossed during twelve years of research, as well as with the theoretical reflections and testimonies of the international performers who took part in the project.
A journey through space and time, starting from the individual memory and arriving at universal, anthropological, and human memory.
Anna Dora Dorno
– director, actress, and theatre pedagogue – was born in Taranto in 1976 and graduated from the Department of music and performance at the University of Bologna.
In 2004 she founded Instabili Vaganti, an artistic duo of which she is director and performer.
Her shows have been hosted in major international festivals and received numerous awards.
As a pedagogue, she has taught in some of the most important theater academies and faculties in the world, including the National School of Drama in India, the Shanghai Theatre Academy in China, the Grotowski Institute in Poland.
​
Nicola Pianzola
– performer and theatrical pedagogue – was born in Novara in 1977 and graduated from the Department of music and performance at the University of Bologna.
In 2003 he received the 'Le Arti per la Vita' Award.
Co-founder and performer of Instabili Vaganti, he is known to the world audience for the award-winning show Made in Ilva, nominated for the Total Theatre Awards at the Edinburgh Festival in 2014.
​
Instabili Vaganti
Is engaged in research and experimentation in physical theater and contemporary performing arts.
It has presented its productions and projects in over twenty countries, translated its works into three languages, and collected numerous national and international awards.
The company has represented the Italian theater in initiatives of global significance including the Olympics of theater in India and the Year of Italy in Latin America.